So what can CWIEME Digital do for you?
Capitalise on CWIEME's global reach to generate new leads, market your products, position your brand as a thought-leader and showcase your solutions to thousands of engaged engineers, purchasing and management professionals. Our digital channels cover web, mobile, social, and email and we have a solution for your budget or sales objective.
All our digital packages and products can be tailored to meet your individual objectives and are designed to increase brand awareness, and shift brand perception.
NEWSLETTER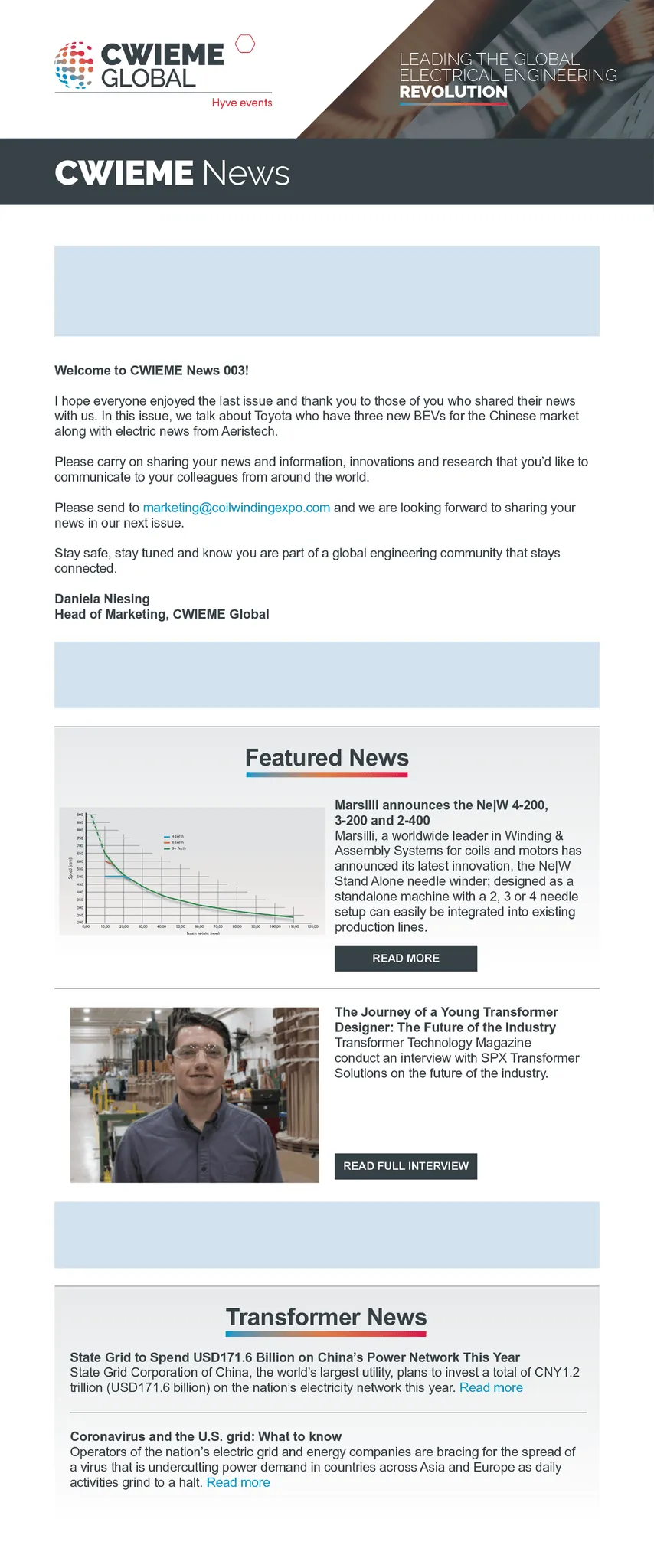 CWIEME News gets your product releases and company news to our global audience. Published bi-monthly and reaching 30,000* inboxes, it is the best medium for quickfire promotions and commercial content, driving product awareness and traffic to your website.
Our bi-monthly newsletter showcases global industry news, highlights trending topics and spotlights thought-leadership pieces that our community looks forward to each fortnight.
We have a number of advertising opportunities available in the newsletter or reach this audience via an exclusive email, focused solely on your company or product offering.
CONNECT WITH YOUR AUDIENCE ON OUR WEBSITE TODAY
Use our CWIEME platform to showcase and increase your brand reach all year round. Banners are available for CWIEME Berlin, CWIEME Global and CWIEME Shanghai.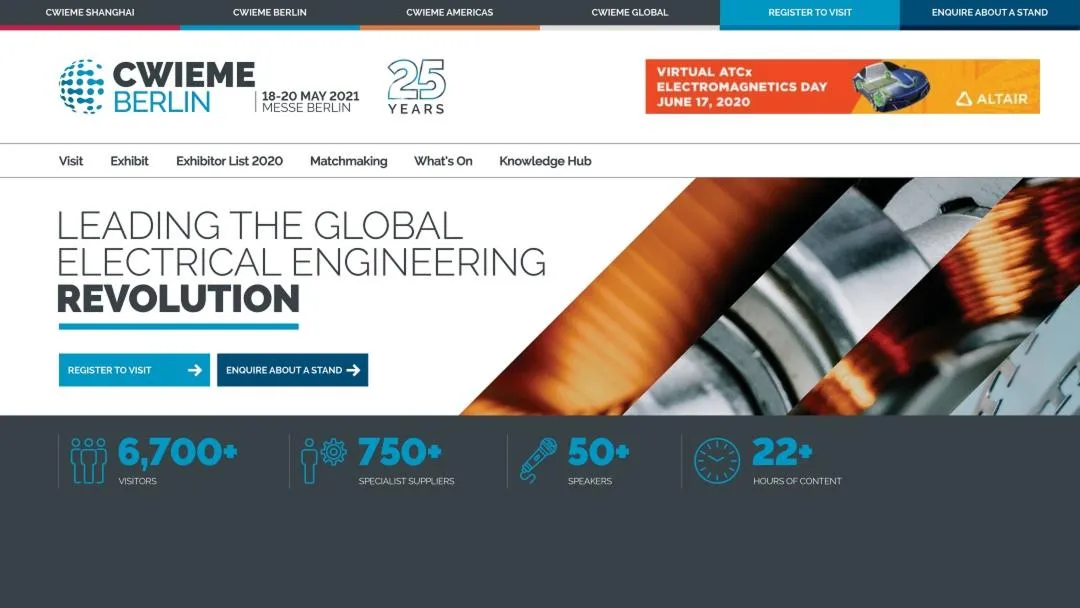 CWIEME TECH TALKS - WEBINAR SERIES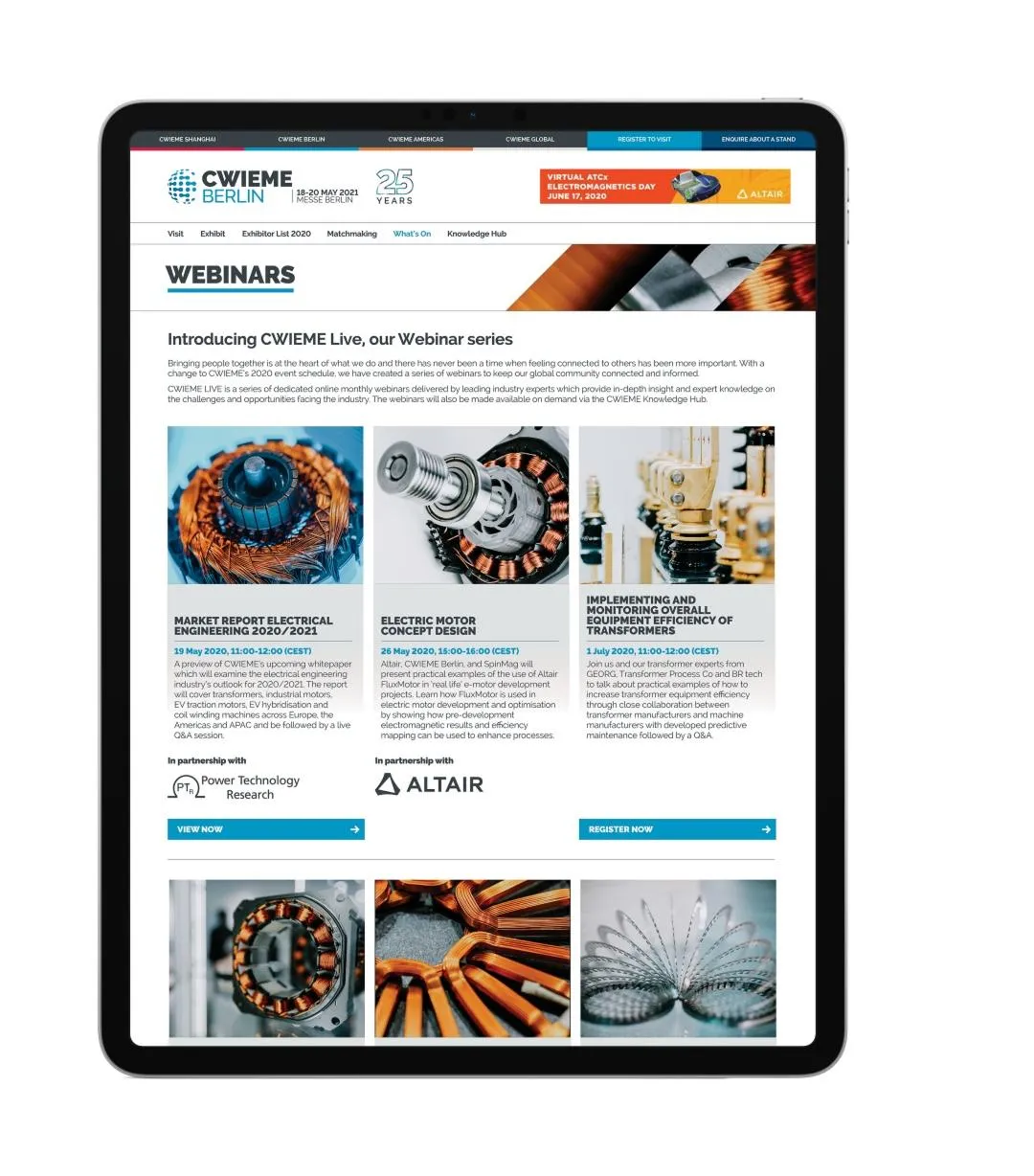 A series of dedicated online monthly webinars delivered by leading industry experts which provide in-depth insight and expert knowledge on the challenges and opportunities facing the industry.
Work collaboratively with our experienced content and marketing teams on the topic you are interested in. We discuss with you the best option for your content to achieve your brand and sales objectives.
KEY BENEFITS:
Opportunity to promote your solution for a key issue trending in the sector
Lead generation – allow your sales teams to follow up and develop pipeline (webinar only, following GDPR regulation)
Position your organisation as innovative, reliable partner and a key driver of thought-leadership
Get visibility at decision maker seniority level
Be associated with CWIEME – the leading & largest global platform for the coil winding, transformer, electric motor, generator and e-mobility platform – to strengthen your business's reputation
A useable piece of content that can be distributed via your own channels as well as our publishing and social media links
CONNECT WITH OUR GLOBAL AUDIENCE SOCIALLY
Use CWIEME's over 13,000 followers' strong community on social media to get your message to potential customers, increase brand & product awareness, and drive traffic to your website.
WHITE PAPERS & ARTICLES ON THE CWIEME KNOWLEDGE HUB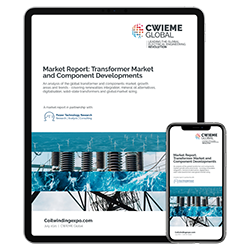 You have interesting research and solutions, but not the resource to write an article or a white paper about it? Our digital content team are experienced journalists who are happy to work with you. The article would then be published via the CWIEME marketing channels.
BESPOKE PACKAGES
You would prefer a combination of marketing activities to support your specific business objectives and marketing strategies, or have an idea for a topic that you think is missing in our theme overview? Talk to your Account Manager or email [email protected] and we will work with you to tailor our packages to meet the needs of your products and services.
Talk to the team to find out how we can help you achieve your business objectives